WHAT'S NEXT

2018 ALL-OHIO FALL LEAGUE

FREE BASKETBALL CLINIC AND FALL LEAGUE SIGN-UPS
SEPTEMBER 8TH
9:00AM-12:00PM
WHITEHALL-YEARLING HIGH SCHOOL
FREE NIKE APPAREL AND SHOES WILL BE GIVEN AWAY


The All-Ohio Summer Basketball Program, the State's number one exposure program for high school players,
is proud to announce the
32nd Annual All-Ohio Fall Superstars Basketball League
for players in grades 2 through 12. There will be an All-Ohio Nike Training Academy 101 for kids in grades K-2. This league will feature some of Ohio's top high school basketball players. The League showcased over 400 players last Fall. It will receive coverage from the
Prep Spotlite Magazine
, which reaches over 500 colleges nationwide.
Only 460 players will be taken for this league
.
This league will evaluate players for the All-Ohio AAU travel teams which play nationwide
.
We will also be making recommendations for the 2019 All-Star Invitational Camps.
This league will feature some of the state's top players like Jeremiah Keene, Ben Fort, Morgan Safford, Josiah Fulcher, Dominic Penn, Josh Corbin, C.J. Anthony, Treohn Watkins, Willie Mfun, Von Cameron Davis, Marcus Johnson, Javohn Garcia, Marcus Stewart, Colton Landis, Jaiden Lipscomb and many more.
The cost for each player to participate in the Fall Superstars League is $100.00. All participating players will receive a Nike-brand jersey and trunks. Each player will play 6 league games and receive equal playing time. There will be 10 players per team when everybody shows up. If you would like to participate in this great league, please fill out the form below and return it with your
$100.00
payment by September 8, 2018.
If you have a team that would like to play together, there will be a special team rate for those who sign up as a team.
There will be a league meeting and Basketball Clinic at
Whitehall-Yearling High School, 675 S Yearling Road, Whitehall, Ohio 43213, on Saturday, September 8, 2018
from
9:00 am to 1:00 pm
. At that time, we will put together teams, and League Play will start on September 15, 2018.
All games will be played on Saturdays between 9:00 a.m. and 4:00 p.m. Some Saturdays you will play 2 league games. There will be four courts in use for league play. The league will last for five weeks, followed by a single elimination play-off tournament.
*This league meets Ohio High School Athletic Association (OHSAA) Bylaw 10-3-3 for non-inter-scholastic competition before basketball season.*
COACHES NEEDED FOR THE FALL LEAGUE TEAMS.

EMAIL: allohiobasketball1986@gmail.com
Please include qualifications

All coaching assignments will be 1st come 1st served. Here is your chance to coach some of the best players in central Ohio! and audition to coach one of our teams next AAU season.
If you have any further questions, call Jerry "J.L." Watson weekdays or weekends after 9:00 p.m. at
(614) 861-0572. Visit our website at
www.allohiobasketball1986.com
; you can register on the website.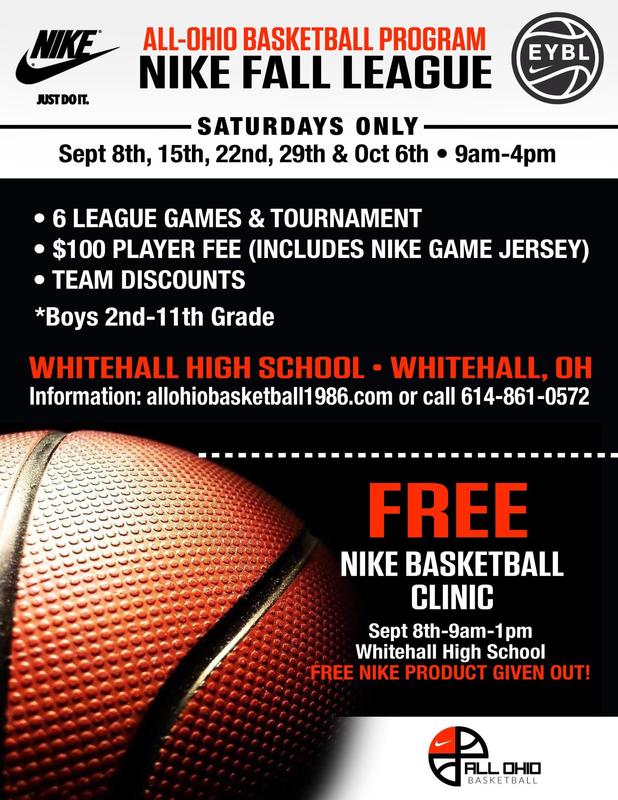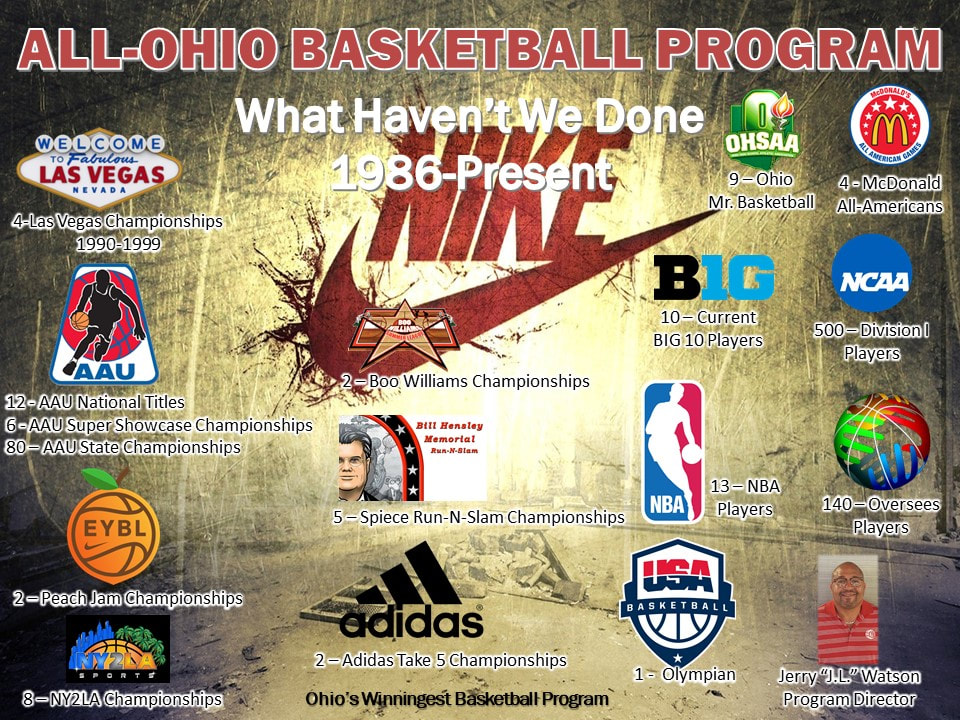 ---
THAT'S WHAT'S UP by Jerry Watson


The All-Ohio Basketball Program has been recognized by college coaches and the media as one of the outstanding summer programs around the country. Former All-Ohio player Jared Sullinger signed a one-year deal with the Toronto Raptors. Terry Rozier is a key guard off the bench for the Boston Celtics. Caris Levert was taken in the first round of the NBA draft by the Brooklyn Nets. The All-Ohio Basketball Program has had a player taken in the last 6 NBA drafts. The Program has 7 active players on NBA rosters for the 2016-2017 season. All-Ohio Red 2nd Grade team had a record of 52-5 and won several highly regarded tournaments. All-Ohio Red 4th Grade Team was a highly respected team in the Midwest. The All-Ohio Blue 4th Grade team beat the higher regarded Blue Chips this past Fall in Louisville. All-Ohio Red 5th Grade finished 3rd at the AAU National in Florida and ranked among the top 6 in the country. All-Ohio Red 6th Grade featured Paul McMillan, Jr, one of the highly regarded guards in the country by most scouting services. The All-Ohio Red 7th Grade team had several good prospects and played a national schedule across the country. The All-Ohio Red 8th Grade team was Top Twenty in the Midwest and had some major guards like Zeb Jackson and Josiah Fulcher. All-Ohio Red 9th Grade team was Top Six in the country by most publications. They won championships in 5 major tournaments, qualified for the Nike Elite Eight and were runner-up in the AAU Super Showcase in Orlando, Florida. They also featured several high major college prospects. The All-Ohio Red 10th Grade team won several major tournaments like the Nike Sweet Sixteen at the Peach Jam in Augusta, Georgia. They won the AAU Super Showcase in Orlando, Florida. They were undefeated in the month of July and finished ranked #3 in the country. All-Ohio Red Junior team was in the Nike EYBL League format. Kaleb Wesson, who committed to play at Ohio State, was the featured player on the team. He is also a leading candidate for Mr. Basketball in Ohio. Former All-Ohio player Keon Johnson of Winthrop University is one of the premier guards in college basketball. Former All-Ohio player Jae'Sean Tate, Ohio State, is considered one of the most competitive small forwards in college basketball as a Junior. Former All-Ohio player Nigel Hayes, Wisconsin, is on the Pre-Season Top Fifty John Wooden Watch List for college basketball's most prestigious player. The All-Ohio Program has been the winningest AAU Program in the country with 10 national championships. Our Program has over 60 active players playing college basketball. Over 480 players who played in the All-Oho Basketball Program have received scholarships over the last 30 years. Our Program has featured the finest basketball events Ohio has to offer.



2018 All-OHIO
Event Schedule


All-Ohio Nike
2018 Dates

Nike Winter League
January 26 - March 18
(Saturday's Only)
Grades 2-9
Glenwood Rec Center
Columbus OH

Nike Grassroots Tournament
March 23-25
Grades 2-9
Columbus OH

Nike Cup Tournament
April 6-8
Grades 2-11
Columbus OH

Nike Rising Stars (Underclassmen) All-Star Games (Invite Only)
April 11
Grades 8-11
Whitehall High School
Columbus OH

Nike Rising Stars Future Phenoms All-Star Games (Invite Only)
April 12
Grades 2-7
Reynoldsburg High School
Columbus OH

Nike Midwest Showcase Tournament
April 20-22
Grades 2-11
Columbus OH

Nike Super Sixteen Tournament
May 18-20
Grades 6-11
Columbus OH

Midwest Future Stars Tournament
May 25-27
Grades 2-11
Columbus OH

Pre-National Tune-up Tournament
June 29-July 1
Grades 2-11
Columbus OH

Nike Summer Championship Tournament
July 20-22
Grades 2-11
Columbus OH

Nike Fall Superstars League September 8 – October 7
(Saturday Only)
Grades K-12
Whitehall High School
Columbus OH

Nike High School Player Representative Showcase
(Invite Only)
September 30
Grades 9-11
Whitehall High School
Columbus OH

Nike City Series Statewide Regional Top 160 Workout
(Invite Only)
October 13
Grades 8-12
Reynoldsburg Summit Campus Columbus OH

Nike City Series Statewide Regional Future Prospects Top 160 Workout (Invite Only)
October 14
Grades 3-7
Whitehall High School
Columbus OH

Nike City Series Battle of the Cities
October 20-21
Grades 3-12
Whitehall and Reynoldsburg High Schools
Columbus OH

All-Ohio Slam-n-Jam Preview
Friday November 23,
(High School Teams Only)
Whitehall High School
Columbus OH

All-Ohio Slam-n-Jam High School Scrimmage,
Saturday November 24,
8 am to 12 noon
(High School Teams Only),
Cleo Dumaree Athletic Complex Columbus OH

All-Ohio Nike
High School Hoops Showcase
Saturday December 1
(High School Season Teams Only) Whitehall High School
Columbus OH
(Counts as One Regular Season Game)